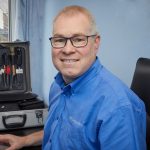 Thank you and welcome to my new blog.
Here I intend to blog on different topics, mainly related to computers and possibly other tech too, but also on what I've been up to in the world of computer support.
Hopefully there will be a new blog post every two weeks or so, not too often so you feel bombarded, but not that scarce you forget about me!
Future subjects will be topics such as buying a new computer, keeping secure online and sensible password use amongst others.
You never know I might even invite a guest blogger now and again!
I also post regularly on my Google business page which is shared on Facebook and Twitter. Go and take a look for a taster of things to come.
Looking forward to entering the blogging world, better late than never hey!
Damian.